As everyone has to at some point in their lives, my sister just went through what she believed to be a traumatic milestone in her life— she turned thirty. Transitioning from your twenties to your thirties can be really scary, no doubt, but what my sister has begun to realize, and you will too, is that being 30 doesn't mean you're "over the hill", being 30 marks the beginning of a fun-filled, real adult life and being 30 in New York City is what people dream of! So seize the day and enter into your thirtieth year of life with the thrill and excitement of all that New York City has to offer; here are five ways to celebrate your 30th birthday in NYC!
1. The Chester – Meatpacking District
Start your birthday with brunch at the Chester NYC! This quaint restaurant, located in the Meatpacking District has a decadent menu perfect for celebrating your 30th birthday. Try their Brioche Trench Toast if you have a sweet tooth or the Eggs Benedict if you're craving something savory. If you're more the type who orders "lunch" at brunch, check out their Foie Gras Apple Burger or the Caprese sandwich; regardless, pair the delectables with a tasty cocktail like their Espresso Martini— Ketle one, Godiva Kahlua, and espresso— or The Cobblestone— tanqueray, mint cucumber, and rhubarb bitter— for an unforgettable 30th birthday brunch! This venue is one of the best birthday restaurants in nyc. It's large enough to accommodate 300 guests so don't hesitate to invite all of your friends to help you celebrate.
---
---
2. Visana Lounge
Start celebrating your thirtieth year of life at Visana Lounge! The name of this modern venue is derived from the Italian words meaning healthy life and this chic club does just that! They feature organic liquor, purified water, filtered air, non- toxic building materials, and essential oil fragrances. You'll find Visana tucked away behind what appears to be just a regular old pizza joint in a hidden back room where you'll find a classy dance floor, great music, and culminating in what is sure to be one of the most unforgettable nights your third decade has to offer!
---
---
3. Open House
This lounge makes its guests truly feel at home. It's tucked away behind a wooden façade so when you walk in on your thirtieth birthday you'll be transported to a completely unexpected space. They have the perfect combination of modern and vintage which creates an elegant atmosphere giving it all the comfort of a hospitable house setting. They have an assortment of platters to choose from and the family- style food service is a nice addition to the homey feel of Open House. In terms of birthday ideas nyc, Open House is an excellent one. Check out Open House to celebrate your thirtieth birthday with friends and family!
---
---
4. The Monarch Rooftop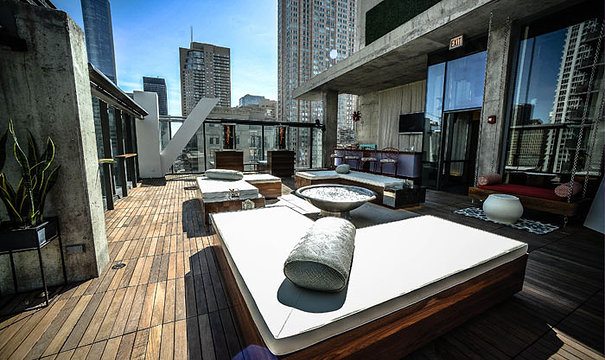 The Monarch NYC is located on the rooftop of an 18 floor building, overlooking the Empire State Building and Midtown Manhattan. This is the place no one forgets especially if they're also celebrating you turning 30! They have tons of comfortable seating, both indoor and out and the level of sophistication offered is unparalleled. If you're feeling adventurous, try their tomato basil martini and mushroom flatbread. If you're palate is more traditional they have an abundance of wines, whisky's, and craft beers and pomme frites (aka french fries) and beef sliders that are to die for! Regardless of what you choose as your refreshments, you'll have a spectacular thirtieth birthday celebrating at the Monarch NYC.
---
---
5. Slate Lounge
With their multileveled event space, large dance floor, audiovisual capabilities, and beat- matched club lighting, Slate NY is the perfect venue to celebrate a hot 30th birthday! They pride themselves on the the elegance of their space but have no fear, you can still break it down and dance into your new decade. If your feet ever get tired, Slate NY has accommodations for a bit of relaxation (super comfortable seating areas) and libations for everyone. Mac and cheese spring rolls, open faced ruben wontons, crispy fish tacos, salad, pizza— what more could you ask for? If you said drinks you're in luck, try the Slate Sipper (raspberry, cranberry juice, orange juice, triple sec, pama, and cherry) or perhaps the Ginger Paloma (Patron Reposado, grapefruit, simple syrup, lime, canton, club soda, and a lime wedge). Slate NY is the ideal combination of refinement and playfulness which makes it a great place to celebrate your thirtieth birthday party.
---
---
So remember, 30 isn't the end but rather the beginning of arguably the best decade of your life. One thing is for certain: wherever you are or whatever you decide to do for your 30th birthday in NYC, you'll never forget it, so make the night count!
For more party locations and ideas, check out our website at www.birthdaysandbottles.com and follow us on Instagram @birthdaysandbottles. Don't forget, thirty is just the beginning of your life so start planning a birthday party with us today!