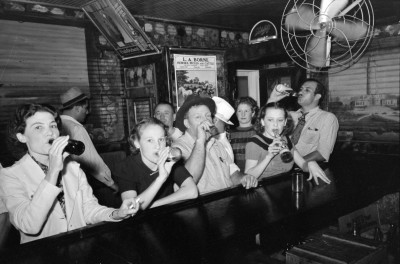 New York City is known for having a wide range of bars to choose from. The thing is, you wouldn't be able to find most of them if you didn't know where to look. As busy as NYC is, there is a lot more to see behind hidden behind random pizza places, underneath clothing stores, and on top of the occasional burger spot. In NYC, we have some of the most exclusive bars on the east coast. In this article, we're going to cover NYC's best kept secret bars that you must pay a visit to.
1. The Garret (West Village) 
One of the coolest things about the Garret is that you would never stumble upon it if you didn't know it was there. It's literally hidden on top of aFive Guys burgers in the West Village. You need to walk all the way to the back staircase and make your way up a relatively narrow passageway. Once you're upstairs, you'll find a lofty space with lots of natural light thanks to 2 massage skylights.
2. Nitecap (Lower East Side)
Nitecap is a tiny cocktail bar in the LES tucked inside a basement. It's hidden directly underneath Schapiro's, an eatery and cocktail bar. The bar has its own separate entrance next to Schapiro's. At first, Nitecap was promoted as the spot where bartenders can go after they finish their shifts at other bars and restaurants. Nitecap was opened by the same owners of Death and Co in the East Village. Evenings spent at Nitecap are a damn fine time which are not to be missed by anyone.
3. The Blind Barber
Welcome to the hybrid speakeasy bar–cum-barbershop in the Lower East Side. Inside, you'll find partygoers who have a passion for skateboarding, tank tops, snap-back hats, and personal fitness. Most would call it a hipster barbershop. The lounge includes a long bronze bar, black-and-white vintage photographs and a bunch of antique furniture. The back room lounge is known as "Grandpa's den", for good measure.
4. Bathtub Gin
Bathtub Gin is a modern speakeasy in Chelsea. It's located behind a tiny storefront called Stone Street Coffee Company on 9th Ave. Though the name 'Bathtub Gin' may connote prohibition-era moonshine, the quality of the alcohol served is far from it. You must try the Clover Club, a fabulous concoction of gin, dry vermouth, lemon juice, egg white, raspberry liqueur and fresh raspberries.
5. Back Room
This 1920's speakeasy is actually original and one of only two speakeasies in NYC that operated during prohibition and is still around today. Back in the day, it attracted theatre performer, actors, and well-known gangster such as Bugsy Siegel, Lucky Luciano and Meyer Lansky. They were known to hold "business meetings" there from time to time, if you catch our drift. The Back Room is extremely exclusive so be sure to have some sort of reservation before you head there.
6. Employees Only
Employees tend to have more fun that customers sometimes, don't they? Welcome to a fantastic railroad cocktail bar staffed with bartenders who are always elevating the craft of the cocktail. They opened their doors in 2004 and are still going strong over a decade later. Guests have the option for a tarot reading in the small foyer.
Now that you've read firsthand that there are plenty of unique and good bars in NYC that are hidden, it's time to get to work! Start with any bar from the list above and pay them a visit this weekend. Remember: we've only covered some of NYC's best kept secret bars. The truth is, there are plenty more where that came from. The keys to finding the best one for your particular tastes are identifying your interests, what you want from a bar, and what kind of crowd and atmosphere you want to be in. If all you care about are the drinks, all of these bars take mixology to the next level and then some. Immersing yourself in a 1920's speakeasy bar experience is special – luckily, there are plenty of them to choose from here in NYC.
If you want to arrange bottle service in NYC at any of the above secret bars or the venues we work with, get in touch with us.