5 Trending Hip Hop Clubs in NYC
Clubs all over the city are opening their doors to eager customers for the chance to be THE space that hosts THE Hip Hop NYC parties. We've hand picked a list of five amazingly hot hip hop clubs in New York that are sure to make your upcoming event unforgettable. Each venue we've chosen has its own unique swagger which sets it apart from anything you've ever experienced; there are clubs with no roof, multileveled clubs, clubs that allow you to let loose and go wild, and clubs that offer a sense of sophistication but the one thing they all have in common is a space where you can break it down and show off all the hip hop moves you've got! Come one come all and check out these 5 Trending Hip Hop Clubs in New York city in 2017.
First up, the Sky Room. Imagine this: the sun is setting over the city and just and it's going down, laser lights begin dancing in an entrancing show through the fog of a smoke machine; All the while a DJ spins a tune so perfect you can't help but get up and dance until the sun reawakens. What seems to be a scene taken right from a movie becomes a real possibility at one of the most unique hip hop clubs in New York, the Sky Room! They have amazing views, mouthwatering cuisine, and heavenly cocktails. With their five distinct spaces, partygoers can relax in the privacy of the South Terrace cabanas or enjoy the effervescent sunset in the North Terrace with its retractable roof. If you're searching for a venue where you can harness your inner hip hop star, look no further – Sky Room is the place for you!
---
---
Next we have the Hudson Terrace which was designed with the intention of attracting fun-loving, life-living, adventurers. It is truly a one of a kind place with Hudson River views, two enormous dance floors, and a great selection of dancing music, this bi-floor night club is sure to set your party apart from all the others. Feel free to bust out all your super star dance moves because the Hudson Terrace is the perfect place to dance until your feet fall off! Hudson Terrace one of the best hip hop clubs in the city but it has so much more to offer as well! You'll remember what an amazing time you had while experiencing their open air atmosphere due to the retractable roof and sipping tasty cocktails all night long! One of the best aspects of the Hudson Terrace is it's large enough to accommodate any size of gathering you're hoping to have. Hudson Terrace is simply amazing!
---
---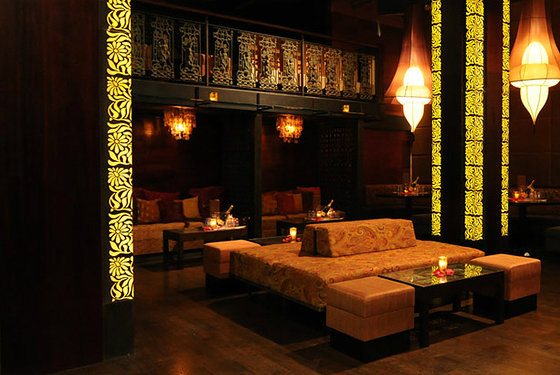 Third on our list is a hidden gem, a diamond in the rough really. Taj Lounge is a balanced atmosphere that allows all the guests in attendance to de-stress and let loose. Taj Lounge is a place for everyone and is hands-down one of the best Hip Hop night clubs in NYC. When you walk in the doors you're immediately transported to eastern nightlife in the event space, lounge, and restaurant. They have a copper-topped bar and interesting, imported décor that adds to the ambiance and helps create an unforgettable experience. Taj Lounge is not only a comfortable lounge but a groovy hip hop club! The wide array of music played at Taj provides a fabulous setting for showing off all the new hip hop moves you've secretly been learning in preparation for your big party and your guests will be dying to join you out on the dance floor! Taj is the place to be if you're looking for a classy, exotic venue to host your next event! Their sister venue is Katra Lounge NYC.
---
---
Our fourth recommendation is perfect for everyone. M1-5 Lounge is often recognized as one of the best Hip Hop Lounges in NYC. This fun, casual bar truly has it all! Cozy lounge seating, curtained booths for intimate conversation, and a bar area with eight flat screen TVs perfect for viewing the big game. Additionally, they have an in house PA system, state of the art turntables, and a stage compatible for dancing until early morning hours! M1-5 New York, NY is truly the hip hop club with everything. Jump on the stage at the front of the dance floor to put the hip in hip hop. When you're taking a break from all the dancing, enjoy some delectable dishes M1-5 Lounge has to offer! They have the expected bar food including delicious wings, beef sliders, and chicken tenders.
---
---
Last but certainly not least is The Attic. Renowned designer, Marc Dizon, found inspiration from the Golden Era of Hollywood when creating the masterpiece space. It's a relaxed environment with a cozy lounge, plush seating at the bars, multiple levels and a DJ booth with spectacular systems making it one of the best hip hop clubs in the city. With all the hip hop music played, it's impossible to go home with your shoes intact; you're sure to have the night of your life here! The color palette is one of soothing silvers and grey interspersed with warm woods that set the mood for an elegant evening soirée. For a sophisticated night to remember, check out The Attic!
---
---
Did you know? Hip Hop was born at a birthday party in the Bronx in 1973. If you want to keep up with the latest in Hip Hop NYC news, subscribe to Hip Hop DX.  We hoped you enjoyed this article and can now make an educated decision on where to host your next big Hip Hop party. Still have questions We are happy to help. Send a message to us at reservations@birthdaysandbottles.com with your inquiry. Be sure to check us out at www.birthdaysandbottles.com and follow us on Instagram @birthdaysandbottles for amazing deals more. Start planning your party today!