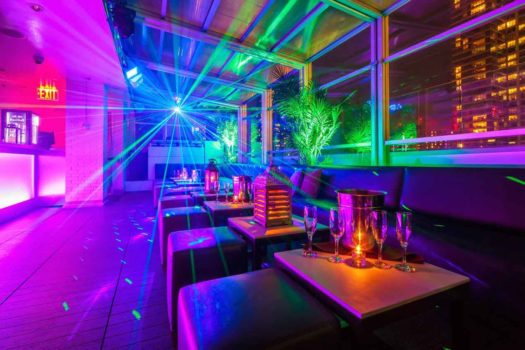 The 5 Best 21st Birthday Spots in NYC Your 21st birthday in NYC should be unforgettable (or very forgettable depending on how many cocktails you have). It's the birthday that you finally get to go out to 21+ clubs and party till you drop. Where to Celebrate Turning 21 in NYC is a big deal. … Read more
The 5 Best Rooftop Bars in NYC Summer is coming and we all know what that means – Rooftop Bars NYC! A whiff of spring will have you dying to spend more time in the open air. Rooftop bars in NYC are the perfect way to do that so we made you a list of … Read more
New York City is known for the spectacular nightlife it has to offer. From Broadway shows to swanky lounges in nyc, the city that never truly sleeps has it all. Of all the things to do in NYC going to a crazy dance club is one of the most fun things you can do if … Read more
5 Trending Hip Hop Clubs in NYC Clubs all over the city are opening their doors to eager customers for the chance to be THE space that hosts THE Hip Hop NYC parties. We've hand picked a list of five amazingly hot hip hop clubs in New York that are sure to make your upcoming … Read more
The People – Hudson Terrace is rapidly becoming known as one of NYC's hottest club spots. Bottle service here will definitely get you noticed by the right kind of people.
The Music – At Hudson Terrace, they always make sure to get the tunes right, whether you're out for a weekend night of bottle service or looking for event planning for a larger soiree.
The Décor – Hudson Terrace simply looks great. While some nightclubs just don't bother maintaining their image well, Hudson Terrace always looks slick and stylish…
Plan Your Next Event at Hudson Terrace New York
The next time you're planning a special event, consider making some Hudson Terrace reservations; they are one of the premier venues in New York City for events of all types. Let's take a look at some of what makes Hudson Terrace New York special…
As all New Yorkers know, the skyline of New York against Hudson River is not only breathtaking it is romantic as well. What a wonderful way to celebrate a birthday or corporate event as you relax in the roof top lounge at Hudson Terrace.
Birthdays and Bottles are a professional event and party planner company that work hand in hand with Hudson Terrace to provide you with the best party you could ever imagine. Working with over 50 roof top venues throughout New York City, Birthdays and Bottles will provide you with catering and decorating needs for your corporate function or birthday party.
With a minimum party of 10 people, Birthday and Bottles will even work with the venue of your choice if it is not part of our roof top venue list. We will sit down with you and go over every detail of your birthday party or corporate event. Whether you are in need of outside decorations or a catering service Birthday and Bottles will provide these for you so all you have to do is show up and enjoy the party.
If you want to celebrate a birthday, engagement, or have a fun get together with your friends, Birthdays and Bottles will plan your party and get you the best bottle service NYC has to offer. The staff at Birthday and Bottles will ensure that your event is an outstanding success. We serve individuals, groups, corporate events, businesses, universities, and other organizations in New York City. Whether you and your group are looking for the finest NYC bottle service or need a party planned in one of New York's best venues, we can help. Check out the video below to see how it works and get in touch with us today.