The 5 Best 21st Birthday Spots in NYC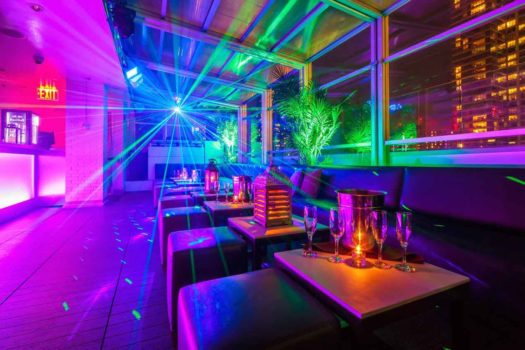 The 5 Best 21st Birthday Spots in NYC
Your 21st birthday in NYC should be unforgettable (or very forgettable depending on how many cocktails you have). It's the birthday that you finally get to go out to 21+ clubs and party till you drop. Where to Celebrate Turning 21 in NYC is a big deal. Most people dream of spending the big two one in New York City where there is always something to do and somewhere to be. The key is knowing which are the best clubs to celebrate this milestone birthday. We've put together a list of 5 best 21st birthday spots in NYC. These awesome clubs, rooftops and lounges in New York City will make your 21st is the best party ever!
1. Hudson Terrace
Hudson Terrace is the perfect scene for turning 21. It is one of the hottest dance clubs in the city with a retractable roof and room for up to 400 hundred guests to help celebrate your special night. The club is multi-leveled with a dining area on the first floor, the sexy salon room—ideal for birthday parties— as the second floor and the amazing third floor dance party. They have both DJ and IPOD compatibility so any and all music can be played while you enjoy delicious cocktails and amazing New York views! You can't go wrong in choosing Hudson Terrace to host your 21st.
2. Monarch Rooftop
This rooftop club that doubles as an afternoon cocktail bar and dance club is perfect for someone looking to celebrate 21 in style. It's a great space that can accommodate any and all guests from the spacious dance area to the comfy seating areas for when your feet need a break. Enjoy their delicious refreshments including a superb cocktail menu and yummy food to compliment it. Monarch Rooftop, one of the best rooftop bars nyc, is the perfect place for someone looking to have an unforgettable yet laid back 21st birthday party!
3. M1-5
M1-5 truly has it all to bring in your new year of legality. A bar area with eight flat screen TV's, an in house PA system, state of the art turn tables, and a stage area—perfect for dancing the night away—make M1-5 the perfect venue for your 21st birthday party! When you're taking a break from the dance floor (if you're taking a break), M1-5 has a wonderful bar with amazing drinks as well as a delicious menu including classic chicken tenders and beef sliders. If you're feeling a little more adventurous, try their delicious Samosas! Regardless, M1-5 is a great spot to turn 21.
4. Sky Room
This is hands down one of the most unique venues in the whole city. Sky Room offers five distinct spaces for partygoers including the privacy of the South Terrace cabanas and the retractable roof space in the North Terrace— perfect for dancing as the sun goes down. Colorful laser beams cut through the fog of a smoke machine as you gulp down a mouthwatering cocktail before hitting the dance floor with all of your closest friends as you say hello to real adulthood. Did we mention the amazing sound system and out-of-this-world dance floor? Cause they have that too! Sky Room will definitely leave you and your guests reminiscing about the best night of your life should you choose to celebrate turning 21 here!
5. The Attic
If you're looking to have a sophisticated, upscale 21st birthday, look no further, The Attic is definitely the place for you! This New York City hip hop club was designed with inspiration taken from the Golden Era. It's both relaxing and fun with polish seating interspersed throughout the bars and multiple levels. They have a great DJ booth with amazing sound systems so dancing is even more of a blast! Not to mention the specialty cocktail menu with a savory Tomato Basil Martini (Titos Vodka, grape tomato, basil, fresh citrus, Tobasco, and rock salt), the yummy Midtown Tea (Earl Grey infused vodka, lemon juice, ginger liqueur, fresh orange, and club sods), The Diplomat (Patron Roca, tarragon, red grapefruit, amber agave, fresh lime, and orange bitters), the Golden Monkey (Monkey Shoulder whisky, fresh lemon, lavender honey syrup, and angostura) and many more amazing cocktails. For obvious reasons, The Attic would be a spectacular place to celebrate your 21st birthday!
Where ever you choose to celebrate your 21st year of life, we'd like to help you!  Make sure you check out Shutterfly's 21st Birthday Party Ideas and Themes and Pinterest's Exploring Your 21st Birthday. Visit our website today at www.birthdaysandbottles.com to speak with an expert event planner. And in the meantime, follow us on Instagram and Twitter @birthdaysandbottles and join our Facebook page!