Top 3 Lounges in the Flatiron District
Everyone is looking for great ways to beat the heat during a night out on the town. Regardless of where you're coming from, the Flatiron District is centrally located in Manhattan, so head out there – the area is home to some of the best bars in NYC. The Flatiron District is becoming one of the hottest spots in Manhattan for party goers and hosts alike because of the amazing venues they have to offer. The three lounges we've chosen each have a unique aspect which can only be found in the Flatiron District. Bring everyone you know down for spectacular drinks, food, and unforgettable experiences.
1. Taj Lounge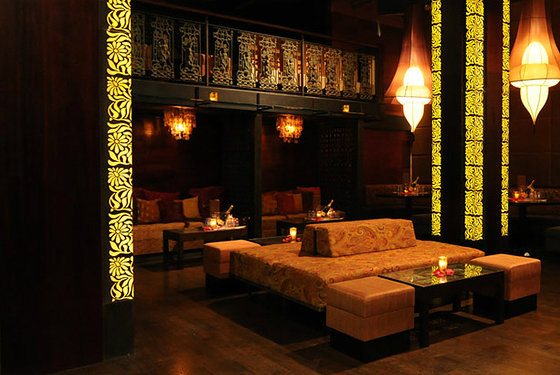 Our first choice venue is Taj Lounge. With beautiful imported décor—including sandstone dancing shivas and carved teak woodwork—and an equally gorgeous mahogany and copper bar—guests will immediately be transported to an Indian inspired lounge. Try the Crispy Calamari, Roast Beat Salad, and Coconut and Green Curry Vegetables for a delectable experience. Pair any food item with tasty Indian inspired drinks from the bar such as a Sari Night, made with Sagatiba Rum, tamarind, cranberry, lemon, and lime or the Indian Summer—tequila, agave nectar, kamareene, and spicy pepper. This place is perfect for a relaxing night out on the town, especially a weekday! The event space is meant to accommodate parties of all sizes so don't feel limited in who you can invite to your corporate event, birthday party, or celebration. Get started today!
2. Bounce Sporting Club

This 4,000 square feet venue can accommodate almost 300 guests on any given night! Their menu is absolutely to-die-for with yummy baby back ribs, crispy chicken wings, perfect juicy burgers, and more (seriously, there is something for everyone on their menu). Not to mention their unique signature cocktails like Red Monkey made with El Jimador, house made red pepper and habanero purée, lime, and agave or the Infield Fly Rule with Remy Vsop, Cointreau, El Guapo Orange Syrup, lime, and Peychaud's Bitters. The bar has a layout that emphasizes the industrial beauty of New York City with wooden hightop tables and comfy booths. The walls are lined with flat screen TV's, ensuring any sports fan will instantly fall in love with Bounce Sporting Club. It's a great venue for any occasion!
3. Slate Lounge

Our third choice venue in the Flatiron District is Slate NYC. It is one of the only venues in New York City that offers both private and semi-private reception spaces in the form of 16,000 square feet over two floors. This bi-level club is both upscale and elegant— qualities that can be found in the sleek décor, lit from within glass bar tops and stairs, and group entertainment such as pool, foosball, and ping pong. They offer tasty American cuisine like the Jumbo NY Pretzel, Chick Fricken A (chicken sliders with Louisiana Hot Sauce spike aioli on cheddar buttermilk biscuits), and The Southwest Chopped Louie Salad. Be sure to finish off your meal with the 21+ Waffle— a warm Belgian waffle topped with vanilla, chocolate, and strawberry ice cream, banana Jameson syrup, whipped cream, and a surprise on top! Their cocktails are just as good as the food. Try the Slate Sipper (Raspberry Vodka, cranberry juice, orange juice, Triple Sec, Pama, and cherry) or the Party All Night (Tito's Vodka, Chambord, Sour Mix, and Grenadine). If this isn't enough to convince you that Slate is a great place, they also have customizable and beat matching lighting, a Funktion- One sound system, and a 9-panel video wall so now you have no excuse not to check it out!
Now you know the Flatiron District boasts some of the best lounges in NYC. In addition, the Flatiron building has a very storied past and many interesting secrets. If you liked this article, let us know by liking our Facebook page and following us on Instagram and Twitter! And if you liked it so much you want to plan an event at one of these fabulous venues in the Flatiron District, fill out the form on the Book A Party page and we'll connect you with an event planning specialist to ensure your night is unforgettable for all the right reasons!